---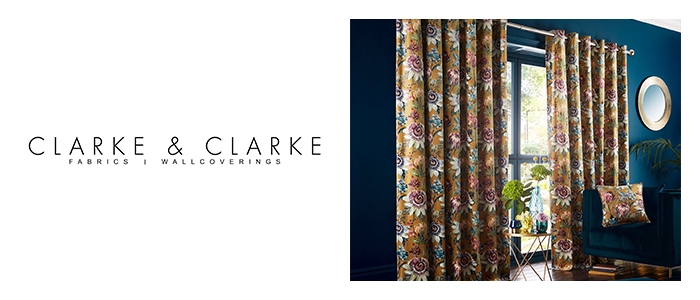 quality
fabrics & wallcoverings
With a passion for creating the highest quality fabrics and wallcoverings, Clarke & Clarke draws its inspiration from fashion. Founded in 1999, the company distributes fabrics and wallcoverings across the globe and has developed a reputation for excellent quality, innovation and customer service
quality
fabrics & wallcoverings
With a passion for creating the highest quality fabrics and wallcoverings, Clarke & Clarke draws its inspiration from fashion. Founded in 1999, the company distributes fabrics and wallcoverings across the globe and has developed a reputation for excellent quality, innovation and customer service. Spanning a spectrum from classic to modern style, the brands huge collection of plain and patterned designs are available online and in store at Glasswells.
Based in rural Cheshire, the dedicated design studio releases vibrant, fashion-led curtain fabrics throughout the year, ensuring that collections are always on trend in both design and colour. Explore our vast array of readymade curtains and cushions and throws perfect for any home in a selection of stunning colours and designs. Whether you are looking to incorporate a striking botanical theme within your home, or looking for a subtle window dressing to fit in perfectly with your existing furniture, you are sure to find the perfect choices for you within our Clarke & Clarke collection. We also have a variety of pretty fabrics, including the classic polka dot design which is sure to add character and a playful ambience to your home.
Explore the almost endless options today of high-quality, gorgeous soft furnishings and discover your perfect choices to complete your home. Don't forget to like and follow us on Facebook for our latest news, products and offers.
---