---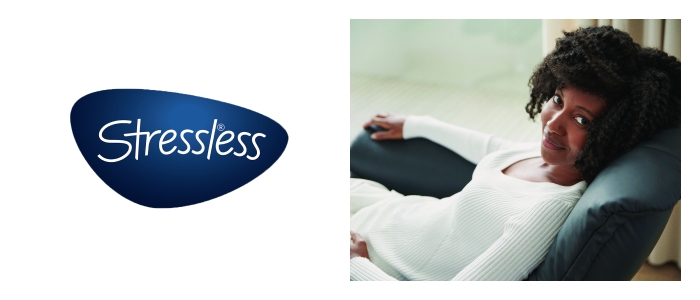 ultimate comfort
recliners, sofas & chairs
Introduced in 1971, Stressless chairs were the first recliner designed to meet your body's need for movement and support when seated. Furniture should be many things: comfortable, gorgeous, functional – and also intelligent
ultimate comfort
recliners, sofas & chairs
Introduced in 1971, Stressless chairs were the first recliner designed to meet your body's need for movement and support when seated. Furniture should be many things: comfortable, gorgeous, functional – and also intelligent. These unique recliners respond to your body to give you exactly the support you need thanks to clever patented technology.
Stressless' mission is simple: creating furniture that understands the human body's unique needs. Lay back and feel your spine become completely supported. A simple adjustment releases the headrest to a comfortable, flat position ideal for snoozing. You can now maintain the optimal neck position to make the most of reading, relaxing or sleeping – naturally and effortlessly.
The modern, elegant range of Stressless chairs is designed and crafted to benefit your posture and provide the utmost comfort possible when you're seated and winding down. With new technology including Glide System and the patented headrest, these recliner chairs offer unique benefits for comfort and relaxation.
Within our wide selection of Stressless recliners, sofas and chairs, we have a range of different sizes, fabulous fabrics and stupendous colours. Relax over luxurious leathers and incredible fabrics to discover a match made in heaven for your living space, with the help of Glasswells.
Stressless furniture is an investment in years of relaxation and everlasting style, but it doesn't have to be expensive. At Glasswells you can spread the cost of your new furniture, with our flexible Finance options on qualifying purchases both online and in-store, allowing you to comfortably invest in furniture that is built to last.
Whatever kind of Stressless piece you're looking to add to your home, you can guarantee you'll be able to find the right one at your local Glasswells store. Don't forget to like and follow us on Facebook for our latest news, products and offers.
---