---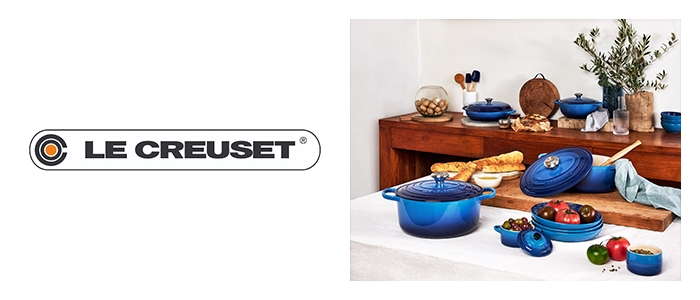 unique
kitchenware
Le Creuset have been bringing life to kitchens since 1925, with their unique colourful flare which is now instantly recognisable. Having cracked the code to the art of enamelling cast iron, Le Creuset cookware is like no other, with quality and style in abundance
unique
kitchenware
Le Creuset have been bringing life to kitchens since 1925, with their unique colourful flare which is now instantly recognisable. Having cracked the code to the art of enamelling cast iron, Le Creuset cookware is like no other, with quality and style in abundance. With a range of exciting hues to choose from, you can find the perfect addition to complement to your home, kitchen and personality.
A Le Creuset piece is a family heirloom in the making, expertly crafted from only the finest materials, including up to 85% recycled materials to deliver the ultimate in sustainability. All casserole dishes are hand-inspected by 40 skilled craftsmen during manufacture, ensuring you receive outstanding quality, durability and performance. Made for the future, all bakeware even comes with a Lifetime Guarantee.
Here at Glasswells, we are proud to offer a wide range of Le Creuset online and in store and you'll find the majority of their classic collections including bamboo, cerise, marseille blue and satin black available at fantastic prices.
Choose from a huge range of matching products, including salt and pepper mills, kettles, espresso cups, eggcups, dinner sets, casserole dishes, roasters and so much more. Such a varied offering enables you to bring colour to every stage of your cooking experience, as well as extending the colour you only get with Le Creuset to your dinner table. At Glasswells, you'll find the perfect addition for years of happy dining, so shop the collection today and find your perfect kitchenware, guaranteed to last a lifetime! Make sure to like and follow our Facebook page for our latest news, products and offers.
---