---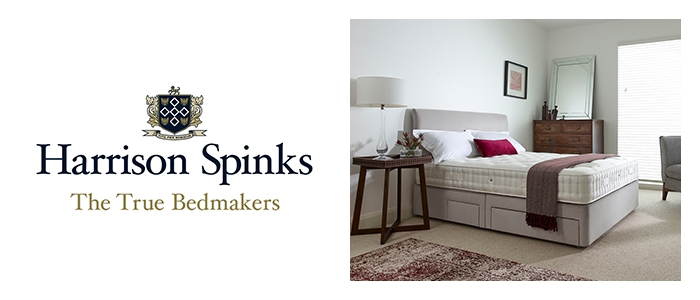 quality
beds
Harrison Spinks, one of the world's leading makers of carefully crafted and developed beds and mattresses, were founded with the simple aim of offering quality and design in equal measure. They have proudly been delivering on this for generations, with all mattresses offering optimum comfort while their bed bases and headboards are made in a range of colours and finishes, providing something to suit every buyer
quality
beds
Harrison Spinks, one of the world's leading makers of carefully crafted and developed beds and mattresses, were founded with the simple aim of offering quality and design in equal measure. They have proudly been delivering on this for generations, with all mattresses offering optimum comfort while their bed bases and headboards are made in a range of colours and finishes, providing something to suit every buyer.
Harrison Spinks believe strongly that a job done properly is best done yourself. This is why all their beds start life on their very own farm, a vast 300-acre site, with the finest materials being home grown in Yorkshire. Not only does this ensure stringent quality controls are adhered to, but it also assures each bed is produced as sustainably as possible. Crafted in Britain, you can be sure of the renowned quality you will experience when you choose a Harrison bed or mattress.
With products and collections to cater for all needs and budgets at Glasswells, one thing you can be certain of is that you will enjoy the feeling you can only get from sleeping on the finest materials, with every contour of your body blissfully supported by thousands of pocket springs. Our extensive range of Harrison Spinks beds includes a wide array of divan beds, mattresses and headboards which are all available in a wide selection of colours, sizes and finishes, so you are sure to be able to craft a bed as individual as you. Our sleep experts are on hand to help guide you to make the perfect choice for you and your needs, whilst providing invaluable knowledge of every product. Visit our Sleep Lab today and experience the ultimate comfort for yourself!
When you think of exceptional products crafted from the finest materials, it is easy to immediately think about the cost. At Glasswells, we feel that a luxury bed shouldn't be a luxury, but a pleasant and essential investment in years of rejuvenated mornings. This is why when you buy a Harrison bed or mattress with us, you can spread the cost with our flexible Finance options, available online and in store. Visit your local Glasswells today and experience the ultimate comfort for yourself! Make sure to like and follow our Facebook page for our latest news, products and offers.
---